6th International conference
The format of participation in the conference is mixed: personal presence and on-line participation.
If you personally participate in the conference, when registering for the event, you must provide a certificate of vaccination against COVID or a negative result of a PCR test conducted within 72 hours before registering for the conference.
Principal objective

Dear colleagues! We are pleased to invite you to participate in the 6th International conference in memory of professor Valery Komarov «The issues in mechanics of pulp-and-paper materials».

Conference missions are exchanging scientific and technical achievements of researchers and industry experts, increasing and developing scientific, professional and business contacts.

Organizing Committee

Northern (Arctic) Federal University named after M.V. Lomonosov (NArFU)

17, Severnaya Dvina Emb.,
Arkhangelsk, 163002
Russia

Phone: +7 (8182) 65-00-92; 21-61-82
Fax: +7 (8182) 20-17-42

E-Mail: paper2021@narfu.ru

Important Dates:

February 12, 2021 – Early-bird registration via
the Conference Website http://paper.narfu.ru/en/;
February 20, 2021 – Sending around the 2-nd Circular;
June 13, 2021 – Deadline for Abstracts Submission
(up to 6 pages of А4);
July 5, 2021 – Sending Letters of Invitation;
September 5, 2021 – Payment deadline.
Conference scientific program
The Scientific Programme is composed of the following tracks:
Basis and methods to assess mechanical behavior of pulp-and-paper materials;
New technical solutions to improve the mechani-cal properties of pulp, paper and cardboard;
Development prospects of resource-saving methods to produce paper and cardboard from recycled raw materials;
Innovations in the technology of plant nanocomposites and biopolymers;
Digitalizing in PPI.


Conference Scientific Program involves a plenary, special and poster sessions.
Languages
Conference official languages are Russian and English
Please, contact the Organizing Committee if you have any suggestions, questions or you need additional
information.
The Organizing Committee will appreciate for the dissemination of Conference information among your colleagues and partners who are interested in participating in the Conference.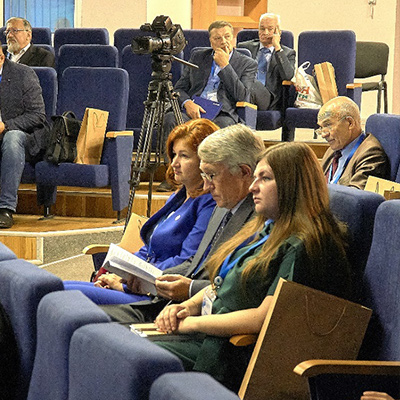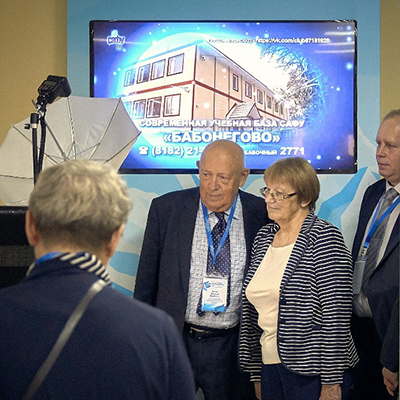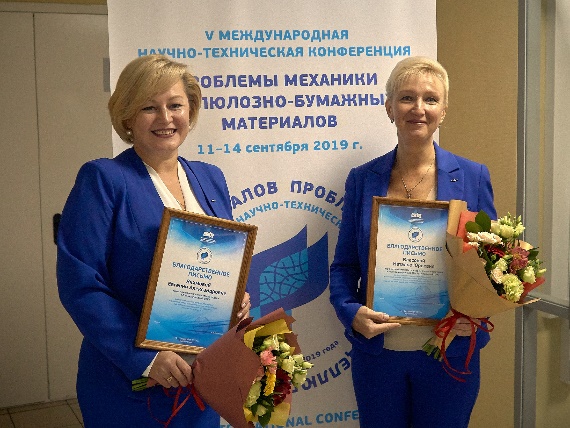 Northern (Arctic) Federal University named after M.V. Lomonosov
September 9–11, 2021, Arkhangelsk
The conference is supported by

Eduard Akim

Chairman

Member of the UN FAO Advisory Committee on Wood and Paper Products, Eng.D., Professor, SPbSUITD, Russia

Yakov Kazakov.

Co-chairman

Head of Dep. of Pulp and Paper and Wood Chemical Production, Eng.D., Professor, NArFU, Russia;

Holmova, M.A.

Secretary

Professor, NArFU, Russia

Yury Alashkevich

Eng.D., Professor, Reshetnev Siberian State University, Russia

Vladimir Beloglazov

PhD, Adv. to CEO of "Arkhangelsk PPM" JSC, Russia

Elena Dernova

Deputy General Director for science and technology issues of LLC «Consolidated Paper Mill», As. Professor, Russia

Vladimir Dubovy

Professor, SPbSUITD, Russia

Dmitry Dulkin

Director of LLC «Consolidated Paper Mill», Professor, Russia

Dmitry Zyliov

Director of JSC «Arkhangelsk Pulp and Paper Mill»

Albert Kanarskiy

Professor, Kazan National Research Technological University, Russia

Galina Komarova

Professor, NarFU, Russia

Sergey Malkov

CEO of "Andritz" LLC, Russia

Andrey Stankov

Chief Industrial Engineer in ET Service,
Mondi Syktyvkar JSC, Russia

Udo Zybulsky

Export director «BIM Finland OY», Ph.D., Finland

Natalya Chernaya

Eng.D., Professor, Department of Chemical Processing of Wood, BelSTU, Belarus

Sergey Yakimov

COO in the Koryazhma Branch of "Ilim Group" JSC, Russia
Thursday, September, 9

8:30–9:30

Registration

9:30–10:00

Opening

10:00–13:20

Plenary session

13:20–14:20

Lunch

14:00–17:10

Session "New technical solutions to improve the mechanical properties of pulp, paper and cardboard"

17:10–17:30

Discussion

Friday, September, 10

9:00–17:00

Poster session

9:00–11:15

Session "Basis and methods to assess mechanical behavior of pulp-and-paper materials"

11:35–14:20

Session "Development prospects of resource-saving methods to produce paper and cardboard from recycled raw materials"

12:50–13:50

Lunch

14:20–16:40

Session "Digitalizing and innovations in the technology of plant nanocomposites and biopolymers"

16:40–17:00

Discussion

17:00–17:20

Closing of the conference

18:00

Ceremonial Dinner

Saturday, September, 11

8:00–20:00

Visiting session and Cultural Program
Thursday, September, 9

8:30–9:30

Registration continues

9:30−10:00

Opening

WELCOME

D.Phil., Professor, Rector, Elena Kudryashova

in engineering, First Vice-Rector for Strategic Development and Science, Pavel Maryandyshev

PhD (Pedagogical Sciences), Director of the Higher school of Natural Sciences and Technologies, As. Professor, Svetlana Lukina

Leaders and representatives of conference partners.

10:00–13:20

PLENARY SESSION

Chairmen: Yakov Kazakov, Eduard Akim

10:00–10:20

Overview of the global pulp and paper industry and the current status of the Russian timber processing complex

Sergey Malkov, LLC "Andritz" (Russia)

10:20–10:40

Recovered paper quality control – tradition and directions of development

Dmitry Dulkin, LLC «Consolidated Paper Mill» (Russia)

10:40–11:00

Coffee break

11:00–11:20

Strength and fatigue of natural and artificial materials

Alexander Berlin, Semenov Federal Research Center for Chemical Physics, Russian Academy of Sciences (Russia)

11:20–11:40

Bending deformation properties of linerboard

Yakov Kazakov, Northern (Arctic) Federal University (Russia)

11:40–12:00

Technological challenges of a cyclical economy in the pulp and paper industry

Denis Kondratiev, System Solutions Center (Russia)

12:00–12:20

Modern trends in the production of fiber semi-finished products

Yulia Sevastyanova, Northern (Arctic) Federal University (Russia)

12:20–12:40

Presentation of the General sponsor «Segezha Group» (Russia)

12:40–13:00

Digital materials science: new materials and substances

Ilya Mayorov, Natalia Shcherbak, Yulia Sevastyanova

Northern (Arctic) Federal University (Russia)

13:00–13:20

Elastic-relaxation properties of wood and their relationship with carbon sequestration issues

Eduard Akim, Alexander Pekarets Saint-Petersburg State University of Industrial Technologies and Design (Russia)

Svetlana Rogovina, Alexander Berlin Semenov Federal Research Center for Chemical Physics, Russian Academy of Sciences (Russia)

13:20–14:20

Lunch

14:20–17:10

Session

«NEW TECHNICAL SOLUTIONS TO IMPROVE THE MECHANICAL PROPERTIES OF PULP, PAPER AND CARDBOARD»

Moderator: Yulia Sevastyanova

14:20–14:35

Application of 100 % kraft pulp in the fluting production

Vitaly Zhitnyuk1, Anvar Idiatulin2

1JSC «Selenginsk pulp and cardboard mill» (Russia)

2LLC «Tehnobum 2» (Russia)

14:35–14:50

Issues of glued paper made from mechanical pulp: Practical experience

Maksim Romanov1, Udo Zibulski2

1BKT-Service (Russia)

2BIM Finland OY (Finland)

14:50–15:05

The effect of grinding of a fibrous semi-finished product in an apparatus with a cavitation effect on the physical and mechanical properties of the finished product

Viktor Kozhukhov, Oleg Usoltsev, Yury Alashkevich

Reshetnev Siberian State University of Science and Technology (Russia)

15:05–15:20

Use of PVAM in the paper industry

Alexander Drachev1, Andrey Ignatov1, Jos Philippaerts2

1Solenis Eurasia LLC (Russia)

2Solenis Belgium (Belgium)

15:20–15:35

Extended lifetime for screening and refining performance components

Roman Smorgunov1, K.Nurminen2, R. Gooding3,4, J.Heymer5

1Aikawa Fiber Technologies (Russia)

2Aikawa Fiber Technologies (Finland)

3Aikawa Fiber Technologies (Canada)

4The University of British Columbia (Canada)

5Aikawa Fiber Technologies (Canada)

15:35−15:50

Investigation of the causes, development of methods to control and reduce resin difficulties in the production of hardwood bleached kraft pulp

Alexander Koksharov1, Sergey Yakimov1, Ivan Gubkin1, Yulia Sevastyanova2, Tatiana Koroleva2

1Branch of the JSC "ILIM GROUP" in Koryazhma (Russia),

2Northern (Arctic) Federal University (Russia)

15:50–16:10

Coffee break

16:10−16:25

Using the structural strength potential of corrugated cardboard

Alexander Guryev1, Dmitry Zylev2, Ivan Kosarev1, Nikolay Kostogorov2

1Northern (Arctic) Federal University (Russia)

2Arkhangelsk PPM (Russia)

16:25−16:40

Technological features of wastewater treatment from recycled board production

Alexander Sinchuk, Mikhail Smirnov

KVI International LLC, Russia

16:40−16:55

The effect of the mill knifes constructional characteristics on the refining process quality

Denis Zyryanov, Natalia Reshetova, Yury Alashkevich

Reshetnev Siberian State University of Science and Technology (Russia)

16:55−17:10

Comparison of soluble pulp technologies

Vasily Medvedev, Yulia Sevastyanova

Northern (Arctic) Federal University (Russia)

17:10–17:30

Discussion

Friday, September, 10

9:00–11:15

Session

«BASIS AND METHODS TO ASSESS MECHANICAL BEHAVIOR OF PULP-AND-PAPER MATERIALS»

Moderators: Albert Kanarsky,

9:00–9:15

Measure fiber properties in "real-time" mode

Roland Berger R., Daniel Wätzig

BTG Instruments GmbH (Germany)

9:15–9:30

The use of elastic-relaxation research methods in the creation of a cellulose composite material for the collection and transportation of biological material samples

Vladimir Seleznev, Ludmila Makhotina

Petersburg state University of industrial technologies and design (Russia)

9:30–9:45

Analysis of factors affecting "Scott-Bond internal bonds energy"

Alexander Koksharov, Ekaterina Belyh

Branch of the JSC "ILIM GROUP" in Koryazhma (Russia)

9:45–10:00

Micromechanical characterization of wood pulp fibers

Caterina Czibula1-3, C. Teichert2,3, Ulrich Hirn1,3

1Institute of Bioproducts and Paper Technology, Graz University of Technology (Austria)

2Institute of Physics, Montanuniversitaet Leoben (Austria)

3Christian Doppler Laboratory for Fiber Swelling and Paper Performance, Graz University of Technology (Austria)

10:00–10:15

Anatomical and structural-morphological characteristics of the Heracleum S.

Alesya Vurasko, D. Shestakov, Anastasia Minakova, Valery Sivakov

Ural State Forest Engineering University (Russia)

10:15–10:30

Storage-induced loss in the disintegration capabilities of cellulosic nonwoven materials

Thomas Harter1,2, Ulrich Hirn1,2

1Institute for Paper, Pulp and Fibre Technology, Graz University of Technology (Austria)

2Christian Doppler Laboratory for Fiber Swelling and Paper Performance, Graz University of Technology (Austria)

10:30–10:45

Local inhomogeneity estimation of the paper structure sample by non-destructive methods

Maria Lysachenkova, Yakov Kazakov, Dmitry Chukhchin

Northern (Arctic) Federal University (Russia)

10:45–11:00

Analysis of power characteristics at the intersection points of the straight knives cutting edges at wood semi-finished pulp grinding

Valery Kovalev, Yury Alashkevich

Reshetnev Siberian State University of Science and Technology (Russia)

11:00–11:15

Control of the species composition of hardwood pulp in the kraft mill fiberline

Elena Okulova, Alexander Guriev

Northern (Arctic) Federal University (Russia)

11:15–11:35

Coffee break

11:35–14:20

Session

«DEVELOPMENT PROSPECTS OF RESOURCE-SAVING METHODS TO PRODUCE PAPER AND CARDBOARD FROM RECYCLED RAW MATERIALS»

Moderator: Dmitry Dulkin

11:35–11:50

Intensification of knife-free grinding of fibrous semi-finished products

Roman Marchenko, Yury Alashkevich, Valentina Shurkina

Reshetnev Siberian State University of Science and Technology (Russia)

11:50–12:05

New biodegradable composite materials on the base of polymers of different classes and arabinogalactan from wood of siberian larch

Svetlana Rogovina1, Eduard Akim2

1Semenov Federal Research Center for Chemical Physics, Russian Academy of Sciences Sciences (Russia)

StPetersburg University of Industrial Technologies and Design Sciences (Russia)

12:05–12:20

Fine grinding technique

Sergey Nikolsky1, K.I. Kovaleva1, M.G. Mikhaleva1,
G.G. Politenkova1, .V. Stovbun1, I.K. Ermolin2, P.Popov2

1Semenov Federal Research Center for Chemical Physics, Russian Academy of Sciences (Russia)

2RIM LLC (Russia)

12:20–12:35

Improving recycled material fines retention using bio-based materials and advanced process solutions for board manufacturing

Klaus Doelle, Jacob Darius, Jonas Sonntag, Kai Fischer,
Tyler Dominesey

State University of New York (USA)

12:35–12:50

Damaged wood processing

Yulia Ambrosovich, Albert Imamov, Ivan Prikatov, Maxim Luchkin, Anastasia Belozerova, Diana Stopa

Reshetnev Siberian State University of Science and Technology (Russia)

12:50–13:50

Lunch

13:50–14:05

Water treatment technology and its impact on the quality of pulp and paper production products

Tatiana Boikova, Nikolay Bogdanovich, Tatiana Mauricheva, Svetlana Dolgoborodova

Northern (Arctic) Federal University (Russia)

14:05–14:20

Biotechnological processing of secondary resources of pulp and paper industry

Albert Kanarskii1, Ekateruna Belkina2, Igor Kruchina-Bogdanov3

1Kazan National Research Technological University (Russia)

2OOO "Prikamskiy karton" (Russia)

3OOO "AMT" (Russia)

14:20–17:00

Session

«DIGITALIZING AND INNOVATIONS IN THE TECHNOLOGY OF PLANT NANOCOMPOSITES AND BIOPOLYMERS»

Moderators: Vladimir Dubovy, Natalia Shcherbak

14:20–14:35

Introduction of modern digital technologies in the laboratories of the pulp and paper industry

Vyacheslav Kuzin, Marina Kuzina

PTA – Saint-Petersburg (Russia)

14:35–14:50

The concept of indexing the cellulose fiber technical properties

Andrey Ruslanov

LLC «System Solutions Center» (Russia)

14:50–15:05

Digital technologies for assessment of paper and cardboard forming quality by microstructure of cross-section

Nikolay Midukov, Victor Kurov, Maxim Litvinov

Saint-Petersburg state university of industrial technology and design (Russia)

15:05–15:20

Development of filter-sorbing materials for creation an assortment of modern filters for gas masks and respirators

Marina Talipova, Andrey Liang

JSC "Sorbent" (Russia)

15:20–15:40

Coffee break

15:40-15:55

Systematization of information on the paper-making pulp properties

Marina Kholmova, Yakov Kazakov, Daniil Yasen

Northern (Arctic) Federal University (Russia)

15:55-16:10

Base paper from mineral fibers for respirators

Nikita Krinitsin, Vladimir Dubovy

Petersburg state University of industrial technologies and design (Russia)

16:10-16:25

Using coarse screening rejects pulp as a raw material for the molded products production

Alexander Potashev, Alexander Guriev

Northern (Arctic) Federal University (Russia)

15:25-16:40

Features of the filter materials properties evaluation

Natalia Shcherbak

Northern (Arctic) Federal University (Russia)

16:40–17:00

Discussion

17:00–17:20

Closing of the Conference
P-I

Influence of the chemical composition of the bleaching reagent of oxygen delignification on the qualitative pulp indicators

Ambrosovich

Reshetnev Siberian State University of Science and Technology (Russia)

P-II

Influence of the chemical composition of the affected wood on its use for chemical processing

Ambrosovich, R.A. Marchenko

Reshetnev Siberian State University of Science and Technology (Russia)

P-III

Biodegradability of plastics based on plant lignocarbon raw materials

Artyomov, V.G. Bryndin, A.V. Savinovskih

Ural State Forest Engineering University (Russia)

P-IV

Estimation of the degree of influence of unipolar corona discharge and polymer coating on the complex of properties

Basyrova, M.F. Galikhanov, L.R. Galeeva

Kazan National Research Technological University (Russia)

P-V

Comparative study of the tendon seam strength (Experimental study)

P.A. Berezin1, Kazakov2

1Northern State Medical University (Russia)

2Northern (Arctic) Federal University (Russia)

P-VI

Separation of liquid pyrolysis products of lignocellulosic biomass to produce biopolyol

A.I. Valiullina, G.M. Bikbulatova, A.R. Valeeva,
Khaziakhmedova, V.N. Bashkirov

Kazan National Research Technological University (Russia)

P-VII

Investigation of the influence of the method of pulp grinding on the process of obtaining powdered cellulose

D.Yu. Vasilyeva, Yu.D. Alashkevich, L.V. Yurtayeva,
Marchenko, E.V. Kapliev

Reshetnev Siberian State University of Science and Technology (Russia)

P-VIII

Effect of raw material on paper-forming properties of fibrous pulp

Vasilyeva, R.A. Marchenko, L.V. Yurtayeva, V.I. Shurkina, E.V. Kaplyov

Reshetnev Siberian State University of Science and Technology (Russia)

P-IX

Influence freeness of wood fibers after the first stage grinding on physical and mechanical properties of wood material

A.Yu. Vititnev1, Yu.D. Alashkevich1, N.G. Chistova1,2,
Matygulina1

1Reshetnev Siberian State University of Science and Technology (Russia)

2Krasnoyarsk institute of railway transport (Russia)

P-X

Processing of fibrous semi-finished products in a centrifugal mill for papermaking

Voronin, Yu.D. Alashkevich

Reshetnev Siberian State University of Science and Technology (Russia)

P-XI

Determination of sulfide ions in kraft pulp liquors

Garkotin, Yu.G. Khabarov, V.A. Veshnyakov

Northern (Arctic) Federal University (Russia)

P-XII

Development of wood cellulose/bacterial nanocellulose composites

Yu.А. Gismatulina1, V.V. Budaeva1, Е.А. Skiba1,
Е.K. Gladysheva1, N.А. Shavyrkina1, А.Е. Sitnikova1,
Mironova1, N.V. Bychin1, Yu.V. Sevastyanova2

1Institute for Problems of Chemical and Energetic Technologies, Siberian Branch of the Russian Academy of Sciences (Russia)

2Northern (Arctic) Federal University (Russia)

P-XIII

Increasing the moisture resistance of waste paper packaging board

Gorazdova1, D.N. Zhirnov2, E.V. Dernova1, V.V. Dyakova1, D.A. Dulkin1, R.V. Shibanov3

1LLC "MC "Consolidated paper mills" (Russia)

2LLC "Sukhonsky CPM" (Russia)

3GC "Gotek" (Russia)

P-XIV

Analysis of the properties and establishment of relationships between the quality characteristics of liner and fluting with the stiffness of corrugated cardboard

Dernova1, V.V. Gorazdova1, D.A. Dulkin1, I.V. Lavrov2

1LLC "MC "Consolidated paper mills" (Russia)

2LLC "Sukhonsky CPM" (Russia)

P-XV

Study of elastic-relaxation properties of plasticized larch and pine wood

Erokhina, A.A. Pekarets, A.G. Sandimirova, A.G. Kuznetsov, E.L. Akim

Saint Petersburg State University of Industrial Technologies and Design (Russia)

P-XVI

The effect of the mill knifes constructional characteristics on the refining process quality

Zyryanov, N.S. Reshetova, Y.D. Alashkevich

Reshetnev Siberian State University of Science and Technology (Russia)

P-XVII

The role of the knife-free method of refining fibrous semi-finished products in the production of powdered cellulose

Kaplyov, L.V. Yurtaeva, Yu.D. Alashkevich, R.A. Marchenko

Reshetnev Siberian State University of Science and Technology (Russia)

P-XVIII

Kraft cooking of plantation-grown acacia wood

Koksharov1, A.V. Mingazova1, H.M. Khoa2, Y.V. Kazakov2

1Branch of the JSC "ILIM GROUP" in Koryazhma (Russia)

2Northern (Arctic) Federal University (Russia)

P-XIX

Effect of the optical brightener addition on the TCF pulp whiteness

Koksharov

Branch of the JSC "ILIM GROUP" in Koryazhma (Russia)

P-XX

Effect of refining on fiber length of bleached hardwood kraft pulp

A.V. Koksharov, Belyh

Branch of the JSC "ILIM GROUP" in Koryazhma (Russia)

P-XXI

Assessment of the microstructure of tissue paper from recovered paper in the JSC «Syktyvkar Tissue Group»

Kostin1, P.V. Osipov1, V.S. Kurov2, N.P. Midukov2

1Joint Stock Company «Syktyvkar Tissue Group» (Russia)

StPetersburg University of Industrial Technologies and Design (Russia)

P-XXII

Investigation of the effect of the barrier type on the intensification of the pulp grinding

R.A. Marchenko, V.I. Shurkina, Kaplyov

Reshetnev Siberian State University of Science and Technology (Russia)

P-XXIII

The influence of the main technological parameters of the knife-free plant on the pulp quality indicators

R.A. Marchenko, Shurkina, D. G. Bolgov

Reshetnev Siberian State University of Science and Technology (Russia)

P-XXIV

Preparation of pulp in an aerodynamic environment for its recycling

Matygulina1, N.G. Chistova1,2, A.V. Vititnev1, A.V. Ushakov1

1Reshetnev Siberian State University of Science and Technology (Russia)

2Rail Transport Institute branch of IrGUPS (Russia)

P-XXV

Development of methods for improving the mechanical and printing properties of cardboard boxes through the use of modern technologies in coating

Makhotina
Petersburg State University of Industrial Technologies and Design (Russia)

P-XXVI

Development of technology for the production of biodegradable material

Е.А. Menshikova, Kholmova

Northern (Arctic) Federal University (Russia)

P-XXVII

Biochemical processing of liquors

L.A. Mingazova1, E.V. Kryakunova1, Z.A. Kanarskaya1,
A.V. Kanarskii1, Kruchina-bogdanov2

1Kazan National Research Technological University (Russia)

2OOO "AMT" (Russia)

P-XXVIII

Oxidative delignification of the wheat straw: comparison of the activity catalyst

Pen, I.L. Shapiro, R.A. Marchenko

Reshetnev Siberian State University of Science and Technology (Russia)

P-XXIX

Properties of secondary fibers obtained from wet-strength paper in the presence of activated persulfates

А.A. Penkin1, Y.V. Kazakov2

1Belarusian State Technological University (Belarus)

2Northern (Arctic) Federal University (Russia)

P-XXX

Photometric determination of sugars in sulfite liquors

Plakhin, Yu.G. Khabarov, V.A. Veshnyakov

Northern (Arctic) Federal University (Russia)

P-XXXI

Local deformations anisotropyof pulp-and-paper materials

Potasheva1, Y.V. Kazakov2, A.V. Malkov2, D.G. Chukhchin2

1JSC "Archgiprobum" (Russia)

2Northern (Arctic) Federal University (Russia)

P-XXXII

Features of deformation of fibrous materials from cereals straw pulp

M.A. Pulyaeva1, Y.V. Kazakov1, A.V. Kanarskii2,
Momzyakova2, T.R. Deberdeev2

1Northern (Arctic) Federal University (Russia)

2Kazan National Research Technological University (Russia)

P-XXXIII

The effect of technological modes of the process of milling on qualitative indicators of pulp

Severgin, N.S. Reshetova, P.E. Lyubaev

Reshetnev Siberian State University of Science and Technology (Russia)

P-XXXIV

Isolation of biopolyols from liquid products of pyrolysis of lignocellulose raw materials

A.I. Sabirzyanova, A.R. Valeeva, G.M. Bikbulatova,
Khaziakhmedova

Kazan National Research Technological University (Russia)

P-XXXV

Determination of the sources of fluctuations in the masses of the label paper web in the machine direction

Sivakov, A.V. Vurasko, S.N. Vicharev, A.V. Artyomov

Ural State Forest Engineering University (Russia)

P-XXXVI

Evaluation of the effect of the bacterial cellulose use in the filter paper furnish

I.S. Sodikov, N.V. Shcherbak, Sevastyanova

Northern (Arctic) Federal University (Russia)

P-XXXVII

Influence of pulp consistency at grinding on strength indicators of finished products

Ushakov, Y.D. Alashkevich, V.A. Kozhukhov, K.A. Hohlov

Reshetnev Siberian State University of Science and Technology (Russia)

P-XXXVIII

Estimation of the properties of lignin isolated from black liquor in the kraft pulp production

Fedorova1, A.B. Nikandrov2, R.A. Petkov1, A.A. Pekarets3, E.L. Akim1

1Saint Petersburg State University of Industrial Technologies and Design (Russia)

2ETS Group of Companies (Russia)

3Forest technology company (Russia)

P-XXXIX

Thermal modification of lignocellulose raw materials in the production of composite materials

R.M. Khaziakhmedova, V.N. Bashkirov, A.N. Grachev,
Valiullina, A.R. Valeeva

Kazan National Research Technological University (Russia)

P-XXXX

The use of enlarged material balance of the Cardboard Machine, as the initial data for creating a digital calculation model

I.A. Shanyazov, Shcherbak

Northern (Arctic) Federal University (Russia)

P-XXXXI

Comparative analysis of paper-forming indicators when grinding different types of raw materials using a set with a curved shape of knives

Shumarina, E.M. Batrakevich, V.I. Shurkina

Reshetnev Siberian State University of Science and Technology (Russia)

P-XXXXII

Improving knife grinding of fibrous plant polymers

V.I. Shurkina, R.A. Marchenko, N.E. Shumarina,
Alashkevich

Reshetnev Siberian State University of Science and Technology (Russia)